Google's Gaming Controller Announcement
Google is jumping headfirst in the gaming industry, it seems, as it has been teasing its first-time participation in the Game Developers Conference in San Francisco. During the keynote, which you can watch streamed live above, Google will be laying out its "vision for the future of gaming, "Following successful trials for its Project Stream gaming service, Google will be hosting its first Game Developers Conference (GDC) keynote at GDC 2019.Big name game developers and publishers will be gracing its event such as Bandai Namco, Id Software, and Ubisoft. Furthermore, the Google has made some high profile hires such as Assassin's Creed producer Jade Raymond and PlayStation VR engineer Richard Marks in addition to ex-PlayStation and Xbox executive Phil Harrison.
Whatever Google is going to announce likely has something to do with streaming, which the company is openly experimenting with.The concept is relatively simple. What if, like Netflix and Spotify, you could not only digitally distribute games, but also stream them over the internet, so players wouldn't need expensive hardware to play graphically-intensive titles? It's difficult because games, unlike other forms of media, are both incredibly large in size and require real-time input from players. The idea is that you can play a fancy, pretty video game even if you don't have the local hardware to render it because all that work is being done off-site. It's something we've been hearing for a while in the gaming industry but seems like it might be finally on the verge of moving past the technical hurdles that have kept it from mainstream success.
"Cloud gaming services will erode the appeal of traditional gaming consoles, leading us to believe that the next generation of game consoles will be the last," says Matthew Bailey, Senior Analyst at Ovum. "The key to cloud gaming's success will its ability to harness connected devices – from smartphones to smart TVs – to deliver console-like gaming experiences without the need for consumers to invest in dedicated gaming hardware.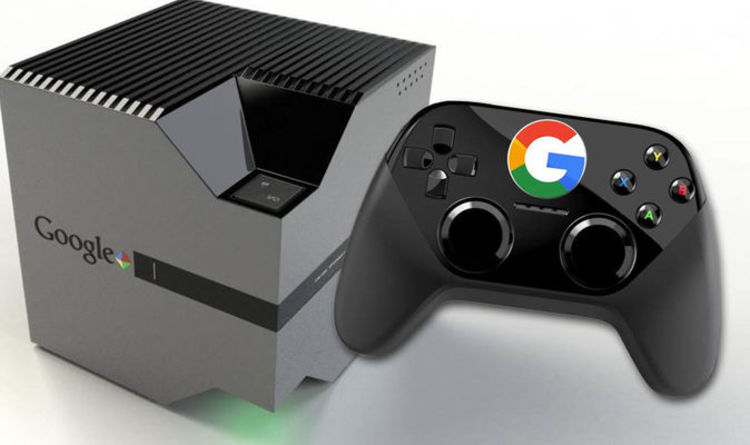 A new patent was filed last year, offers what could be a first look at Google designed hardware.The patent has a January 31, 2019 publication date, and uses line drawings to outline what is mostly pretty standard fare for a console controller. The controller offers the traditional D-pad, thumb sticks, four primary buttons, and four trigger buttons. Additionally, there's a menu button, a home button, a Google button, and a microphone button.The Reps Twitter account posted a tweet showing off renders of the controller. The renders appear to be the ones from Yanko Design, and may or may not be indicative of the final product.The patent also details a notification system built into the controller that could permit a "seamless activation of a game or other application on a host device from a game controller." The notification system could also alert users to changes in player scores, a chat message, or an invitation.
Additionally, Google says Ubisoft is another one of its partners. Uncharted director Amy Hennig, who recently left EA, will also be on a Google-sponsored panel with a representative from Tomb Raider studio Crystal Dynamics and game designer RaphKoster. Now, we don't know what this level of involvement translates to; these companies could just be trotted out to shower Google with technical praise and show off a demo or two.
Ayodhya Ram Mandir: Bhumi Pujan
Within the next three years, the Vishwa Hinduc Parishad (VHP) said, the building of a great Ram temple within Ayodhya, whose 'bhoomi pujan' is scheduled to be completed.
VHP International President Vishnu Sadashiv Kokje has said that the ceremony of laying the foundation stone for the Temple of Ram among Hindu people throughout the world is enthusiastic. The Congress was also accused of the delay in building the temple, PTI said.
Previously, Prime Minister Narendra Modi declared the event a historic occasion earlier today, with the slogan of "Jai Siya Ram." "I thank you for the past that I have seen. In this day couldn't believe the Crores of Indians. The entire country is under Lord Ram 's embrace, "Modi said following a silver bite under Ayodhya at the Ram Temple founding ceremony.
The ceremony featured Modi among 175 men. He shared his dais only with four others — RSS Chief Mohan Bhagwat, Nritya Gopaldas Maharaj Chief of Trust, Anandiben Patel, Governor in Uttar Pradesh, and Adityanath, CM Yogi. Keeping the pandemic in mind, seat facilities are provided in line with the concepts of social separation. The Prime Minister and Adityanath had previously offered Hanuman Garhi offerings. Ram Janmabhoomi was also visited by Modi.
275 CHINESE APPS THAT INDIA MAY BAN NEXT
The Indian government blocked 59 Chinese apps, including TikTok and UC Browser, at the beginning of this month, saying it was harmful to the nation's sovereignty, dignity, and health. Days after this, media reports say that 275 more smartphone applications in the country may be banned by the administration. According to a study in The Economic Times , the government reviews 275 Chinese applications for breaches of national security and consumer privacy. The list of applications allegedly includes PUBG Mobile, Ludo World, Xiaomi, AliExpress, Resso and ULike for 14 Mi phones. Following its investigation, the government can ban some or all of these devices.
An additional report from News18 reported that the 275-app list includes not only applications from Chinese technology companies like "Xiaomi, Tencent, Alibaba, and Bytedance, but also development agencies and businesses like Meitu, LBE Tech, Perfect Corp, Sina Corp, Netease Games, and Yoozoo Global."
If they censored content, worked for foreign governments or lobby forces, Indian government has recently released a list of 77 questions to the already banned 59 applications. This deadline is coming to an end for the businesses operating these devices. The news of smartphone prohibitions follows a battle between Indian and Chinese soldiers that killed 20 Indian soldiers.
The Department of Telecom (DoT) ordered a security audit last week, and the certificate of compliance was sent as soon as possible, to all government network and websites. Officials of the government have answered that cyber attacks have risen to 10,000 a day since the 15 June conflict and India's ban on 59 Chinese phones.
Massive Earthquake in Southern Mexico on June 25, 2020
Southern Mexico was hit by a massive earthquake, which killed at least six people, led buildings hundreds of miles away, causing residents to flee their homes and their workplaces in the open air for protection in the streets. The magnitude of the earthquake was 7.5 in the Pacific coastal area around 14 miles toward the south of Crucecita, a beach city located in the southern state of Oaxaca that was very popular among tourists, according to the Mexico national seismological services.
The United States Geological Survey has however measured the magnitude at 7.4; provisional calculations are not uncommon to differ. The very same region was hit on Monday night by another quake estimated in the US to be 4.9. The National Seismological Service of Mexico stated that 1,571 aftershocks were in effect from early Wednesday. It happened at 10:29 (Local time).
Governor of Oaxaca, Alejandro Murat, said at least six citizens in the region had been killed by the earthquake on Wednesday. The Governor also said that approximately 500 homes and four archeological sites and several schools were destroyed. The toll information and the media reports have revealed scrapes from certain damaged Oaxacan buildings.
The President, Mr. Andrés Manuel López Obrador, told a Twitter video, which he posted early in the evening, about one of his series, relaying a series of updates from Mr. León and others. The president said, a phone hit his ear, "collapsed, broken glass, falling signs, walls, but really nothing serious."
Mr. López Obrador urged all to be alert and calm for further earthquake warnings. "there would be no more harmful post-shocks, hopefully and I wish for all my soul," he said. Much of the area adjacent to the epicentre, and more than 90 miles from Oaxaca, the state capital, is the nearest city to the city. Buildings swayed over 300 miles Northwest from Mexico City, but local news reports revealed little harm to the rest of the building façades that had fallen away. The Mayor Claudia Sheinbaum of Mexico City said no "significant" impacts from an earthquake had been confirmed by either the security command center or officials carrying out municipal overflights.
The earthquake was pronounced "horrible," by Flora Pedro Mora, the owner of the Mansiones Cruz del Mar, condo-hotel building near Crucecita. "It was like the film,," she said, shuddering audibly. But she added that the property was not severely damaged, apart from certain wooden beams that were chucked adrift and fell to earth. While some hotels and resorts, known as Huatulco, began to re-open in the last week in response to the pandemic following a prolonged closure, guests were still at Mansiones Cruz del Mar. Petróleos Mexicanos, the state-owned oil firm, confirmed that the earthquake had led to its refinery temporarily shut-down in the port of Salina Cruz, where a fire quickly erupted.
A "potential threat" from a tsunami across the shores of Mexico, Guatemala, Honduras and El Salvador, the United States' National Atmospheric and Oceanic Administration said, but revoked it a few hours later. After the tremor, tiny seismic waves were reported by the ocean boots — too little to have a significant impact. Effective offshore earthquakes, such as Fukushima, Japan in 2011 and Aceh, Indonesia province in 2004, can cause devastating tsunamis. But the earthquake that are causing of that kind of damaging waves are tough to anticipate.