NASA is sending a tiny Helicopter to Mars next year
When the Mars 2020 rover lands on the Red Planet in early 2021, it will carry with it a small helicopter, the first human craft to fly on another planet. Until now, Mars has hosted orbiters, landers, and rovers, but no flying machines. The small helicopter will enable scientists to remotely explore regions of the planet's surface far from its mothership's landing site, according to NASA. It will be sent to Mars as a technology demonstrator, which means if it doesn't work, the Mars 2020 mission will still succeed. "NASA has a proud history of firsts," said NASA Administrator Jim Bridenstine. "The idea of a helicopter flying the skies of another planet is thrilling.
The Mars Helicopter holds much promise for our future science, discovery, and exploration missions to Mars."The Mars Helicopter's development began in 2013 at NASA's Jet Propulsion Laboratory (JPL) in California. It's just under 4 lbs. (1.8 kilograms), and its body is about the size of a softball, NASA officials said in the statement. It will carry solar cells to charge up in the light of the sun and a heating mechanism to endure cold nights on the Red Planet. With its fuselage about the size of a softball, and its twin, counter-rotating blades will be able to bite into the thin Martian atmosphere at almost 3,000 rpm – about 10 times the rate of a helicopter on Earth.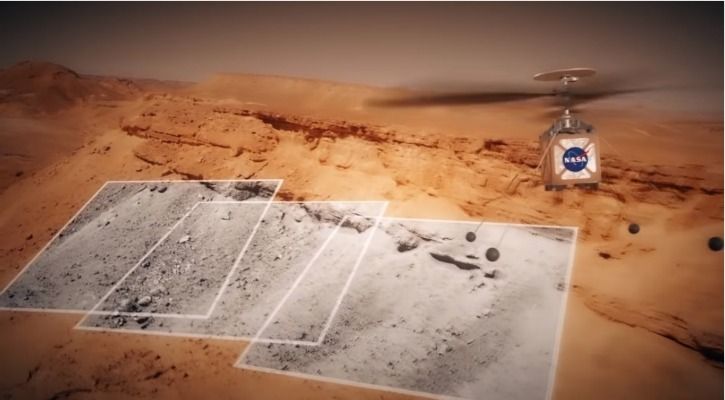 "The altitude record for a helicopter flying here on Earth is about 40,000 feet. The atmosphere of Mars is only one percent that of Earth, so when our helicopter is on the Martian surface, it's already at the Earth equivalent of 100,000 feet up," said Mimi Aung, Mars Helicopter project manager at JPL. "To make it fly at that low atmospheric density, we had to scrutinise everything, make it as light as possible while being as strong and as powerful as it can possibly be," Aung said. Aside from the challenge of flight itself on the Red Planet, engineers also had to figure out how the craft would navigate with communications delays of at least a few minutes between Mars and Earth.
Engineers solve this problem with the rovers by taking careful pictures of the terrain and then guiding the rover slowly toward its goals, with many stops along the way to reassess any risks. But a helicopter needs faster response times, being more likely to encounter wind patterns and other obstacles that could knock it off course. And of course, if the rover ever malfunctions and stops operating, it will still be safely on the ground. The helicopter must have built-in systems to safely land itself if it encounters any errors.
Once the rover is on the planet's surface, a suitable location will be found to deploy the helicopter down from the vehicle and place it onto the ground. The rover then will be driven away from the helicopter to a safe distance from which it will relay commands. After its batteries are charged and a myriad of tests are performed, controllers on Earth will command the Mars Helicopter to take its first autonomous flight into history. The full 30-day flight test campaign will include up to five flights of incrementally farther flight distances, up to a few hundred metres, and longer durations as long as 90 seconds, over a period.On its first flight, the helicopter will make a short vertical climb to three metres, where it will hover for about 30 seconds.
The miniature chopper's main purpose is simply to prove that remote-operated flight on Mars is possible, and NASA plans to send it on five missions, each a little further than the last. While it flies, it will capture photos using a camera similar to one you'd find on a smartphone. If it works as planned, future missions to Mars could deploy more tiny aircraft, which would allow researchers to explore further beyond the reach of the landers they arrived on.
Also Read: NASA gives SpaceX green light for capsule test to ISS  
Also Read: Evidence of Water found on asteroid Bennu
Dead at 76: Suzanne Somers, Star of "Three's Company" and "Step by Step"
The actress Suzanne Somers, who was featured in such shows as Three's Company and Step by Step, has passed away.
PEOPLE confirms Suzanne Somers passed away early Sunday. On Monday, she would have been 77 years old.
Suzanne Somers
The death of Suzanne Somers occurred at home in the wee hours of October 15th. She battled an aggressive form of breast cancer for almost 23 years," Somers' longtime publicist R. Couri Hay said in a statement released on behalf of the actress's family.
"Suzanne was surrounded by her loving husband Alan, her son Bruce, and her immediate family," the statement went on to say. On October 16th, her 77th birthday, her loved ones gathered to honor her. Instead, they plan to honor her exceptional life and express gratitude to her countless devoted fans.
Hay told PEOPLE in a separate statement that the "beautiful house" where Suzanne Somers spent her last moments was "one of her dreams."
Her spokesperson said she was "very engaged right to the end," adding, "There were all these plans and she was always working and dreaming and had brought her family into the business, and the grandchildren and step-children were all part of the business."
A private family burial is scheduled for this week, and Hay said a memorial service will be performed in the fall.
Suzanne Somers told PEOPLE before her birthday that she planned to celebrate with family and friends.
The actress and entrepreneur said she would be spending her birthday with her "nearest and dearest," which included her "beloved husband Alan [Hamel], our three children, Leslie, Stephen, and Bruce, [his wife] Caroline, plus our six wonderful grandchildren."
Hamel, who married Suzanne Somers in 1977, spoke highly of her tenacity in the same interview.
Read More : Death at 82 years old of Michael Gambon, who played Dumbledore in "Harry Potter"
"Suzanne and I just returned home from the Midwest where Suzanne had six weeks of intensive physical therapy," the former TV anchor said to PEOPLE. Suzanne's incredible resolve and loyalty continue to astound me, even after all these years.
After being diagnosed with breast cancer in 2000, Somers revealed the disease had returned in a July Instagram post.
She captioned a photo of herself with Hamel, 87, with, "As you know, I had breast cancer two decades ago, and every once in a while it pops up again, and I continue to bat it down." To address it, I have employed both conventional and alternative medicine. For me, this is hardly uncharted territory. I'm a fighter who knows how to suit up.
The actress thanked Hamel and her entire family for their unwavering support in the same tweet.
She continued, "Alan has been there for me every single day." How much he has helped me is beyond words. To the extent it is conceivable, our relationship is stronger than ever. My beautiful relatives have been quite helpful in maintaining the company's operations, ensuring that you continue to have access to all of the excellent goods. We appreciate your unwavering devotion and backing. Who you love and who loves you is all that matters, and I love you.
She played Sheriff Hildy Granger on She's the Sheriff (1987–1989) in addition to her famous performances as Chrissy Snow on Three's Company (1977–1981) and Carol Foster Lambert on Step by Step (1991–1998).
The actress was also well-known for her health and beauty business initiatives, including the ThighMaster exercise equipment, and her many books (she wrote more than 25).
Including Hamel, her 57-year-old son Bruce, her stepchildren Stephen and Leslie, and her six grandchildren, Somers' "blended family" continues to live on.
New York City infrastructure is once again weakened by historic rains due to climate change
In less than 24 hours, a major storm dumped more than 7 inches of rain over portions of New York City, turning streets into swift-moving rivers and halting subway service as water poured into subterranean transportation stations.
The storm exposed how vulnerable the Big Apple's old infrastructure is to extreme weather events that are exacerbated by climate change, coming just two years after floods from Hurricane Ida's leftovers ravaged the five boroughs and killed at least 13 people in the city. And it appears there is still much to be done more than ten years after Hurricane Sandy compelled officials in New York City to reevaluate the concept of climate resilience.
In some of the worst-hit areas, there were reports of heavy rainfall of up to 2.5 inches per hour. Flash flooding caused a number of highways to be closed, drowned cars, and trapped many city buses. During the storm, at least one school in Brooklyn was evacuated, as were subways, regional rail lines, and air service.
"The reality staring city leaders in the face, including in places like New York, is that the climate is getting more extreme, more unpredictable, and requiring more investment," said Joseph Kane, a fellow at the Brookings Institute, a non-profit think tank, who specializes on infrastructure. "Usually, it's too little, too late."
Extreme weather events like this, according to Steve Bowen, chief science officer for Gallagher Re, a global reinsurance broker, are highlighting how quickly risks are moving in areas like New York as climate change increases rainfall and existing infrastructure fails.
More moisture may be held and delivered by a warming environment, which can intensify storms, according to Bowen.
The Infrastructure in New York
The reality is that the infrastructure in New York, the United States, and, to be honest, many other parts of the world is simply unable to withstand the current climate and most definitely won't be able to withstand future climate changes, according to Bowen.
On Friday, flood watches affected almost 23 million people in Connecticut, New Jersey, and New York. Kathy Hochul, the governor of New York, announced a state of emergency for New York City, Long Island, and the Hudson Valley, describing the storm as a "life-threatening rainfall event."
Mayor of New York City Eric Adams, who also declared a separate state of emergency, came under fire for his tardiness in addressing the public and for not acting swiftly enough to alert locals to the gravity of the situation.
The emergency management commissioner for New York City, Zachary Iscol, claimed that Friday was the city's wettest day since Hurricane Ida.
Officials in New York were meant to receive a wake-up call from Hurricane Sandy in October 2012 about weather and climate risks.
Sandy, a post-tropical cyclone that made landfall close to Atlantic City, devastated the coasts of New York and New Jersey with a catastrophic storm surge. According to the city comptroller's office, the storm killed 43 New Yorkers and shut off electricity to 2 million city residents. Housing units totaling close to 70,000 were destroyed or damaged. New York City sustained damage from the hurricane estimated at $19 billion.
The city comptroller's office claims that not enough has been done to make New York more resistant to the risks associated with its changing environment.
Almost ten years after Superstorm Sandy and six months after Hurricane Ida, Louise Yeung, the comptroller's chief climate officer, addressed the city council in April 2022, "We have not done enough to prepare for future storms." Meanwhile, our aging infrastructure from previous decades continues.
According to a report from the comptroller's office, as of June 2022, the city had only spent 73% of the $15 billion in federal grant money it received as a result of Hurricane Sandy. The majority of the city's own capital investments in resilience initiatives have been largely ineffective.
Progress has been "plodding," according to the study.
According to Yeung, the recent flash flood and Hurricane Ida have raised new issues. Many of the city's post-Hurricane Sandy investments, such as building floodwalls, berms, and levees, are intended to control coastal flooding and sea level rise rather than extremely heavy precipitation.
Read More: The 'catastrophic' flooding that broke dams and swept away homes in Libya is blamed for the deaths of at least 5,000 people.
Yeung said, "Heavy rainstorms like the one we are seeing today are becoming our new normal as climate change intensifies," and that it's a problem that calls for various investments, such as enhancing green infrastructure, modernizing the storm sewer system, and improving real-time emergency communication that is prepared for localized flash flooding.
11 persons lost their lives as a result of flash flooding during Hurricane Ida, the majority of whom were trapped in basement apartments that were neither legal residences nor well-known to the city. Tens of thousands of basements were found to be at risk of flooding, and the comptroller's office recommended that the city register basement residences, enforce safety inspections, and take precautions to safeguard residents, such as installing valves to stop sewer water from rising into cellars.
The storm serves as a reminder of the vulnerabilities faced by coastal populations and how those vulnerabilities are made worse by climate change, according to Mona Hemmati, a postdoctoral research scientist at Columbia Climate School in New York City.
Because of the developed environment and lack of green space, flooding risks are increased in densely populated cities like New York.
She noted that highly populated regions have "huge amounts of impermeable surfaces, which means water cannot seep underground, creating a lot of runoff and urban flooding."
Hemmati continued by saying that the city's stormwater management systems are out-of-date and were not intended to handle the volume of runoff that is actually occurring today.
Hemmati, however, asserted that the city deserved praise for emphasizing climate resilience in its post-Superstorm Sandy recovery efforts, which included enhancing floodgates, hardening shorelines, and creating citywide models to examine runoff flows under various climatic conditions. It will require more time and money to complete other infrastructure initiatives, such as reinforcing storm barriers and the city's subway system.
It is getting better, but I don't anticipate every issue being resolved in a matter of a few years, she added. It's on the right track, but undoubtedly insufficient.
Hemmati asserted that in addition to regional and national initiatives, citizens may help their communities become more resilient to climate change.
"Climate issues aren't just happening at the government level," she claimed. "People should educate themselves about the risks with all these hazards — rainfall, flooding, wildfires, and extreme heat."
According to Gallagher Re's Bowen, the majority of New Yorkers do not have flood insurance on their homes, which puts the safety of their neighborhoods at danger.
"I'm assuming that when we start to see some of the damage totals coming out of this, that a significant portion is just going to end up being uninsured," said Bowen. "It's just the most recent evidence that something needs to change,"
Additionally, a protracted government shutdown might make it difficult for New Yorkers to restart their lives.
If Congress doesn't act before then, the National Flood Insurance Program's authorization will expire on October 1. Due to the gap, the program won't be able to borrow money from the US Treasury to cover flood-related claim payments. According to the Congressional Research Service, the program will pay out claims from its reserves until it runs out of money or Congress takes action.
The majority of the Federal Emergency Management Agency's staff will probably be immune from the shutdown, but other essential operations of the federal government could be affected.
Death at 82 years old of Michael Gambon, who played Dumbledore in "Harry Potter"
Michael Gambon, an actor best remembered for his portrayal of Albus Dumbledore in the Harry Potter film series, has passed away. He was 82.
In a statement, his publicist said, "We are devastated to announce the loss of Sir Michael Gambon." Following a bout with pneumonia, Michael, a devoted husband and father, passed away quietly in the hospital with his wife Anne and son Fergus by his side.
After actor Richard Harris passed away, Gambon assumed the part of Albus Dumbledore. He gave the part a new tone that was purposefully at odds with how the character was portrayed in the source literature. In 2009, he explained to The LA Times that since he was working with the screenwriter's words, he saw "no point in reading the books."
Gambon was born in Ireland in 1940. Laurence Olivier hired him after seeing him perform on stage for the first time in Hamlet, the National Theatre's inaugural performance. He received numerous honours for his stage performances, including three Olivier Awards.
After playing a prominent role in the 1986 BBC series The Singing Detective, he rose to fame as an actor in Britain. He received his first of four BAFTA Awards for his performance. In 1998, Gambon was knighted.
Read More : David McCallum, Actor on 'NCIS,' 'The Man from U.N.C.L.E.,' Passes away at the age of 90
He was a versatile actor who appeared in films and television roles like Paddington, Hail, Caesar!, and the BBC's adaptation of J.K. Rowling's book The Casual Vacancy in addition to reprising his role as Albus Dumbledore in the Harry Potter series.
Although he was a fan of Rowling's writing, as an actor, acting wasn't his first priority. She authored it, so I didn't do Harry Potter, remarked Gambon in an interview. "I did it for the money," the subject said.
Michael Gambon
On October 19, 1940, Sir Michael Gambon, an accomplished Irish-English actor, was born. He has had a successful and lengthy career in theatre, television, and movies. Gambon is most well-known for his performance in the Harry Potter movie series, where he took over for Richard Harris as Albus Dumbledore beginning with the third movie, "Harry Potter and the Prisoner of Azkaban" (2004).
Michael Gambon has a long list of credits in both traditional and modern theatre performances in addition to his role as Dumbledore. For his theatre career, he has won various accolades and honours. Among his significant stage appearances are parts in plays by Samuel Beckett, Harold Pinter, and William Shakespeare.
Gambon has played a variety of roles in films and television shows, demonstrating his versatility as an actor in addition to his theatre and Harry Potter appearances. His filmography features films like "The Singing Detective" (1986), "Gosford Park" (2001), and "The King's Speech" (2010).
Throughout his career, Michael Gambon has won numerous accolades, including multiple Olivier Awards for his work in theatre. He is a respected figure in the acting community thanks to his distinctive voice and potent performance.
Gambon is well-known for playing Albus Dumbledore in the Harry Potter movie series, taking up the part after Richard Harris's death in the third film, "Harry Potter and the Prisoner of Azkaban" (2004).
In addition to playing the renowned Dumbledore, Michael Gambon has a distinguished background in theatre productions. For his work on the theatre stage, he has won various awards and received favourable reviews. His versatility as an actor is demonstrated by notable parts in plays by William Shakespeare, Harold Pinter, and Samuel Beckett.
Beyond his accomplishments in theatre and with Harry Potter, Gambon's work in film and television is as notable. His filmography includes "The Singing Detective" (1986), "Gosford Park" (2001), and "The King's Speech" (2010).
Michael Gambon has won countless accolades and prizes throughout his distinguished career, including multiple Olivier prizes for his great theatrical performances. His reputation as a beloved figure in the performing community has been cemented by his distinctive voice and imposing acting abilities.